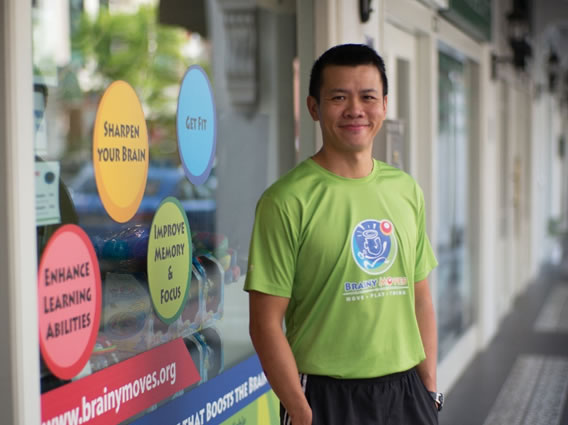 From 460 BC to 370 BC, Hippocrates had already established that exercise and proper diet is the way to better physical and mental health.
"If we could give every individual the right amount of nourishment and exercise, not too little and not too much, we would have found the safest way to health."
Hippocrates
Numerous modern day research reinforced the fact that exercise improves our ability to learn, to manage our emotions and to improve our physical health. Also, play is critical to the development of one's physical and cognitive faculties.
"Modern physical education should move away from its competitive sports approach to one that employs a wide range of play involving strenuous physical activity for every student."
Dr John Ratey, Neuropsychiatrist and Associate Clinical Professor at the Harvard Medical School.
Brainy Moves' founder, James Tang, a formally trained physical education and mathematics educator, witnessed the benefits of an effective and fun-filled Physical Education on his students' behaviour, motivation and academic achievement. As an educator who unceasingly pursues mastery in his practice, James designed and developed a pedagogy that had been tested and proven since the incorporation of Brainy Moves Pte Ltd in November 2013. This pedagogy is founded on the principles of neuroscience, psychology, behavioural and sports science.
With a strong passion for transforming lives through effective science-based methods, James has developed programs that can be personalised to cater to different brain types, effectively rewire brains and maximise their potential. All programs are developed and delivered aligning to our 'BRICK' values system – essentially the heartbeat of Brainy Moves. BRICK represents that the company's resolution to provide the Best Quality in our programs, establish strong Relationships with our students and their caregivers, uphold the strictest Integrity in every way, always giving our efforts with a Compassion and to continuously upgrade our Knowledge so as to add value in all that we do.
Since 2013, Brainy Moves has successfully helped thousands of students, young and old, with different brain types and medical conditions, to experience significant improvements that enhance their academic results and quality of life. Brainy Moves has also delivered numerous lectures and workshops, including regular sessions at the Singapore's National Institute of Education, to share the science behind complex exercise and its impact on the brain with educators, medical professionals, and parents.
Brainy Moves is endorsed by Dr John Ratey from Harvard Medical School.
"I am a big supporter of Brainy Moves and their programs. The aims and processes that I observed are based on science, and they will continue to evolve and help the science to evolve as well. It is a well-thought-out and powerful program that incorporates activities that improve balance, flexibility, coordination, rhythm and leads to a better behaved, better organised, and better-performing child. The staff is well-trained and very committed to children of all brain types. It gives me pleasure to say that I will be an ongoing consultant to James Tang and his group!"
Dr John Ratey, Neuropsychiatrist and Associate Clinical Professor at the Harvard Medical School.
James and the Brainy Moves program has been featured on several prominent Singapore media platforms such as The Straits Times, Business Times (Executive Lifestyle), Lian He Zao Bao, Zao Bao Comma, My Paper, The New Paper, Good Morning Singapore 早安您好! MediaCorp Channel 8, Channel NewsAsia (CNA), FM 958, 883 JIA FM and 938 Live.
Brainy Moves aims to develop its presence in various parts of Asia to share and to lead the way in improving the lives of many through effective fun-filled Clinical Neuropsychological Physiology brain training.