James Tang
Founder and Principal Trainer (Exercise Therapy)
With many children addicted to gadgets and decrease in opportunities to play and exercise, James has a mission to raise awareness on the importance of complex exercise in the development of the brain and keeping it sharp, and change the mindsets of parents, educators, and even medical professionals.
James founded Brainy Moves, a science-based program that uses complex exercise to boost the brain for both children and adults. It is endorsed by Dr John Ratey from Harvard Medical School. James guest lectures at NIE to MOE teachers and Principals on the scientific research on how movement impacts the brain and trains teachers how to carry out brain breaks in the classroom. James also goes to schools to conduct the Brainy Moves program to help improve students' learning abilities.
Formally trained in Physical Education and Sports Science, and graduated with a Master of Education (Special Education) from the National Institute of Education, James is also certified by Changi General Hospital as a Clinical Fitness Professional (Exercise is Medicine Singapore). A former PE and Maths teacher, he is experienced in coaching and training students in fitness, wellness and sports, including neuro-typical students and those with learning difficulties.
The Brainy Moves program was developed based on Neurophysiology Psychology, Sports Science and powered by sound Educational Pedagogy to help neuro typical children maximise their potential, and children with special needs to improve in their conditions. Students at Brainy Moves have seen amazing transformations with improved high-order thinking, speech, improvements in academic results, focus & concentration, with the most dramatic and significant improvements  seen in children with special needs conditions.
James and the Brainy Moves program has been featured in several media platforms such as The Straits Times, Business Times (Executive Lifestyle), Zao Bao Comma, My Paper, The New Paper, Good Morning Singapore 早安您好! MediaCorp Channel 8 and 938 Live.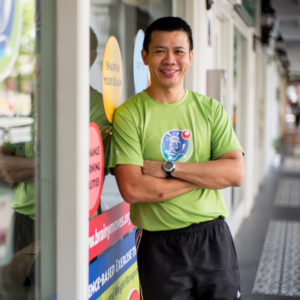 Nicole Wong
Senior Centre Manager
Nicole leads the team of trainers and oversees the operations of the company alongside with the Founder. Being a physically active person, Nicole represented the school in numerous cross-country competitions. Her passion for sports and in getting children to be physically active led her to multiple years of teaching Physical Education in school. After that, Nicole held key position in a couple of enrichment programmes service providers.
Having numerous years experience of working with parents of children with special needs, Nicole can empathise with parents who are in similar situations. Adding on, her keen observation skills and natural ability to identify and address a child's needs makes her a valued member of the Brainy Moves Team. Equipped with various strategies in helping children, Nicole contributes actively to the team by sharing some insights into helping children with Special Needs.
Apart from being trained in Brainy Moves Coaching Level 1 and 2, Nicole is a Certified Clinical Fitness Professional by Exercise Is Medicine Singapore. Over and above that, Nicole reads relentlessly to be further equipped with the knowledge to help children of all brain types.
Benjamin Lim
Senior Centre Executive (Exercise Therapy)
Born and raised in Malaysia, Benjamin from a young age has always been associated with sports with tennis being the main sport that he plays. During his junior days, Benjamin has represented Selangor state and Malaysia in tennis. Benjamin's love for the sport and various injury experiences has led him to have an interest in the study of Physical Therapy as he feels that he has the knowledge as a former athlete and also as a person that experienced many injuries. He eventually continued to pursue his dreams in tennis by committing to play NCAA D1 college tennis for the University of Louisiana at Lafayette which was also where he attained the Bachelor of Science in Kinesiology: Exercise Science with a minor in Psychology. Benjamin was able to graduate with honors and Cum Laude in his graduation class. He was also awarded various scholarships, academic excellence awards and made it to the dean's and president's list in many semesters.
Prior to working at Brainy Moves, Benjamin was working at different outpatient physical therapy clinics and hospitals in the United States where he experienced having sessions with many pediatric and geriatric patients. Benjamin has experience working with various types of patients from stroke patients and injured athletes to patients with down syndrome. Besides that, during his undergraduate years Benjamin was also involved in many undergraduate researches as a research assistant which he received grants for and was able to be published in a journal article titled Computational Biology and Chemistry and two poster presentations with the first titled Cancer Cachexia on Mice and the second titled Dose Response Relationship Between Tart Cherry Supplement Ingestion And Blood Pressure In Healthy Adults.
Benjamin is very excited to apply the knowledge he has attained to help as many people as he can of any age group, while doing so he is also always very keen to learn and attain new knowledge from Brainy Moves to be able to better himself. He is also hoping that by being able to help others he is able to also learn from them as he believes that there are no boundaries to learning.